Brexit: Some Key Changes
After years of wrangling, discussion and negotiation the UK and EU agreed a trade deal at the end of 2020.
It's a once-in-a-generation event with far-reaching implications. Here are some key points that may be relevant to you but it´s not the entire list. If you have any other questions then please ask and we will try to find out for you.
Travel

How Does Travel in EU Affect UK Nationals Since 1 January?
Currently, British nationals are banned from travelling to many European countries due to a recently discovered mutant strain of coronavirus. Separately, EU Countries as well as Iceland, Liechenstein, Norway and Switzerland have banned most non-EU residents from visiting due to the pandemic, unless there's a strong case to allow them in, for example for family reasons or if they are a healthcare professional (see a full list on the EU website).

Once the transition is ended, British nationals are expected to be treated like most other non-EU residents and be barred from travelling. As the UK is not on the EU`s Council of exempt European countries from travelling UK citizens are barred from travelling. Individual countries are also allowed to set their own rules as well, which means that stricter border checks and controls are possible.
Flight delay compensation rules won't change – EU rules have been written into UK law
EU rules will continue to apply to the UK until the end of the year. Beyond that, the UK Government insists flight delay compensation rules will remain the same, as it's written EU261 into UK law.
Stricter Border checks are possible – and from 2022, you will have to buy a £6 visa-waiver for EU holidays
Since 1 January 2021, you may face stricter border checks. UK nationals have been warned they may need to show a return or onward ticket on arrival, show they have enough money to stay and use separate lanes from citizens of the EU, Iceland, Liechtenstein, Norway and Switzerland when queuing.
Since 1 January 2021 onwards you may need extra documents to work or study, or for trips longer than 90 days. This will depend on what you're doing and where you're going so you'll have to check with the Embassy of the Country where you plan to travel for what type of documents you will need. The exception to this is if you're going to Ireland – you WON'T need extra documents when travelling there, even for work or study, and will continue to visit in the same way as you can now.
Since 1 January 2021, there will be limits on what you can bring back to the UK from the EU. From this date, the tax-free limit will fall to goods worth up to £390. There will also be separate limits on the amount of alcohol or cigarettes you can bring in without paying tax. For example, you can only bring back four litres of spirits. VAT at 20% will also be due on all imports. From 1 January 2021, you'll be able to check your allowances, make a declaration and pay any tax using a new online service for passengers. See Gov.uk for more details.
From 2022, (date to be confirmed), you will have to buy a £6 visa-waiver for holidays and short stays. But they WILL have to pay for what's known as a 'visa-waiver'. This visa waiver will cost €7 (£6.28) and will be issued under the 'European Travel Information and Authorisation System'. The fee covers an electronic pass that will allow British citizens to go on short holidays over a period of three years before they have to renew. The pass is similar to the ESTA currently required to visit the United States.


Passports
UK Passports are now blue – but you don't have to get a new one until your current one's close to expiry.
If you have a UK passport, it'll likely be burgundy with the words "European Union" stamped on the front. Yet this is changing – all new or renewed passports are now blue instead, and the "European Union" is omitted.


Visiting the EU in 2021?
You'll need at least six months left on your passport – so may need to renew early……
From 1 January 2021, when you visit most EU countries and Iceland, Liechtenstein, Norway and Switzerland, your passport will need to both:
have at least six months left on it until expiry
AND be less than 10 years old on the day you travel.
This means some individuals will need to renew their passport earlier than normal. It's worth noting though that it won't apply when visiting every EU country (for example, the Republic of Ireland).


European Health Insurance Cards (EHICs) will remain valid until their expiry date
Before Brexit, and during this year's transition period, most UK residents have qualified for a free European Health Insurance Card (EHIC). This entitles you to the same treatment at state-run hospitals and GPs that locals are entitled to, at the same cost, when travelling in the EU (plus Iceland, Liechtenstein, Norway and Switzerland and some overseas territories).
What happens if I already have an EHIC?
UK nationals who currently have an EHIC can continue to use it in the EU after 1 January 2021 until the card expires, even if that is years away. However, from January, you'll no longer be able to use your EHIC in Switzerland, Norway, Iceland or Liechtenstein, which are not part of the EU, but had accepted the EHIC from UK nationals.
What if I don't have an EHIC (including when one expires)?
The Global Health Insurance Card (GHIC) will eventually take over but you will need to apply for it. Like an EHIC, this will entitle holders to emergency or necessary state (not private) medical care for the same cost as a resident in the EU country; but it won't cover you in Iceland, Liechtenstein, Norway and Switzerland.
If you apply for a new EHIC on the NHS website now, you will be sent a GHIC instead and like the EHIC, it'll be free. Do note, you can no longer get a new EHIC (incl via a renewal) if you are a UK national living in the UK, with some exceptions – see who can still apply.


Pet Travel
From 1st January if you take a pet to Europe in 2021, you will face more red tape.
Previously, owners of dogs, cats and ferrets can travel with their animals to and from EU countries under the EU Pet Travel Scheme, provided they hold a valid EU pet passport.
To obtain a passport, pets must be taken to a vet before travel, microchipped and vaccinated against rabies. But if you travel to the EU or Northern Ireland from 1 January 2021, you will need to take the following steps on your first trip.
These steps are similar to the current process for taking your pet to the EU, but you'll need an Animal Health Certificate (AHC) instead of a pet passport:
You must have your dog, cat or ferret microchipped.
You must vaccinate your dog, cat or ferret against rabies – your pet must be at least 12 weeks old before it can be vaccinated and you must wait 21 days after the primary vaccination before travel.
You must visit your vet to get an AHC for your pet no more than 10 days before travel.
If travelling to Finland, Malta, Northern Ireland, Norway or the Republic of Ireland with a dog, you need to ensure it's received treatment for tapeworm 1 - 5 days before arrival in these countries. This needs to be detailed on the pet's animal health certificate.
For further information then check Vendici Fact Sheet 5.3 Pets in Portugal.


Driving in the EU in 2021?
Most individuals won't need a permit, but you'll need a 'green card' if taking your car.
Prior to the trade deal being announced, the Government had warned International Driving Permits (IDP) could be widely required by UK citizens driving in the EU. According to the Department of Transport's now told us that in most cases from 1 January 2021 you WON'T need a permit to drive in the EU, Switzerland, Norway, Iceland or Liechenstein.
The only scenarios where you may need an IDP are:
If your licence was issued in Gibraltar, Guernsey, Jersey or the Isle of Man. Here, you need to check with the Embassy of the country you're planning to visit.
If you have a paper UK driving licence. Here, you'll also need to check with the Embassy of the Country concerned whether you need an IDP.
If you do need an IDP, it costs £5.50 and it's possible you may need more than one - you can check which kind of permit is valid in which country on the Gov.uk website.
This is an International Certificate of Insurance issued by insurance providers in the UK, guaranteeing that the motorist has the necessary minimum level of third-party cover (you may need to pay if you want a higher level of cover). To get a Certificate of Insurance, contact your insurer. It will send you your green card and you need to carry the physical document when you travel. You will also need a GB sticker.


UK Citizen living in the EU?
Exchange your driving licence NOW
If you're a UK licence holder living in the EU, the UK Government says you should exchange your UK driving licence for a local EU driving licence. The deadline for doing this depends on which country you live in. You may also need to retake your driving test depending on the country you're based in. See Gov.uk for full country-by-country info.
If you return to live in the UK, you will be able to exchange your EU licence for a UK licence without taking another test, so long as you got your initial licence from passing a test in the UK. EU licences will continue to be exchanged even after the transition period, so there should not be in a rush to exchange them during the transition period in particular.
Consumer Rights
Basic consumer rights won't change – but seeking redress from EU traders may be tougher FROM 1ST January 2021. Some of the most important consumer rights laws in the UK, such as the Consumer Rights Act which provides protection when you buy goods online and in store, are UK laws and will remain unchanged at the end of transition period. However, if you're buying from a trader based in the EU post-Brexit, things may get a bit trickier next year.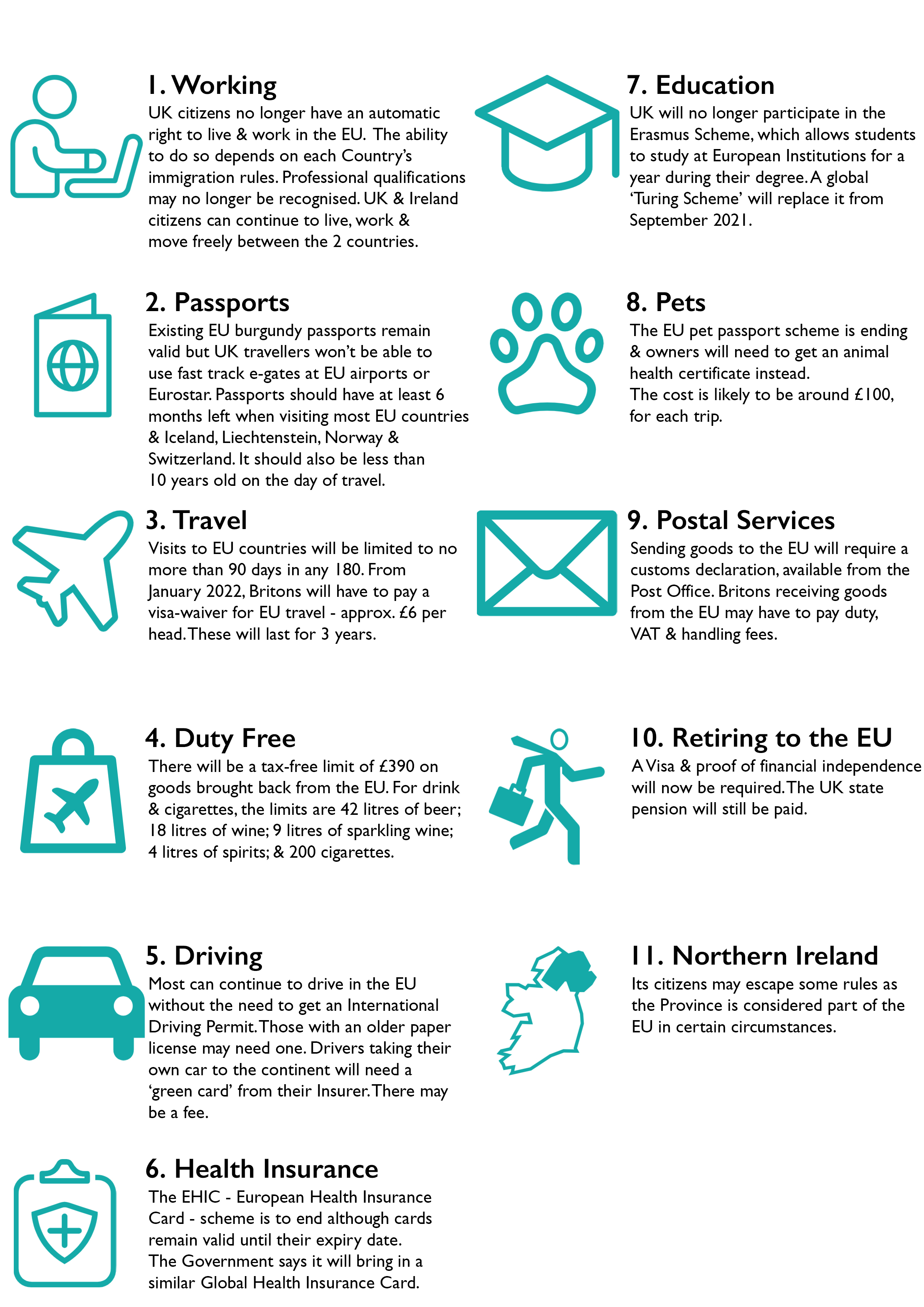 All data is valid at date of publication and should only be used as a guide.
For Further Information or Assistance Please do not hesitate to contact :
Email : rebecca@vendiciproperties.com or Mobile : +351 919 592 097