COVID-19 PCR Tests in Algarve
Updated 25th June 2021.
If you need to travel or require a PCR test for travel or for any other reason there are a number of private testing services that can assist you.
The tests need to be booked in advance and they are not free. Prices range from €50 to €150 per test and results are generally available within 24 – 48hrs.
Some private COVID-19 test providers include:

HPA Group offers COVID-19 testing and is available at Faro hospital. Testing is also available at other HPA sites including Portimão, Lagos, at São Brás de Alportel and Vila Real de S. António.

Red Cross are offering PCR tests for €60 but this is only available in certain locations across the Algarve so worth checking with the Red Cross.
Lusíadas Group offers COVID-19 Testing at Lusíadas Faro. Advance booking is required. Price €100.
VDL Medical Centre and Quinta do Lago Medical Centre offer a lateral flow/antigen test for €69. Results are available within 30 mins and within 24 hours for the PCR test which costs €129. With the result you will also receive an official document valid for travelling.
Tests are available Monday to Saturday and must be booked in advance. Telephone 289 398 411 or 289 398 009 for more details or email at covidtest@family-medical-centre.pt
Test Bookings MUST be made through https://www.family-medical-centre.pt/
IRBOSOL Testing Clinic offer PCR and antigen tests. The clinic is located in Almancil in the IRBOSOL development which also house FRESCO art gallery and Sushi Yama. They also offer a home visit service where they will safely come and do the tests in your own home. Name: Fit2Fly Portugal. Landline Number: 289 032 377. Mobile Number: 00351 963 855 651
Response times for COVID-19 Test.
Rapid Antigen Test: 20-30 minutes (done in airport, before security). If having the test at the airport please arrive at the airport 3-4 hours before departure.

SARS-CoV-2 PCR-RT: 3-3.5 hours (carried out in a Faro Laboratory)
For more information: www.laboratorio.faro@synlab.pt
Loule Hospital in partnership with SYNLAB and CÂMARA MUNICIPAL DE FARO, are operating a new COVID-19 Mobile Screening Centre in Faro. Prior appointment is mandatory and can be made through the number 289 249 745 or email covid.faro@hospitaldeloule.com. The results are sent to the user and to the public health authorities in a period of 24h to 48h.
A full list of PCR Test Centres / Locations in the Algarve can be found on this link:
https://www.safecommunitiesportugal.com/wp-content/uploads/2021/05/List-of-Covid-19-Test-Centres-in-the-Algarve.pdf
As a result of the recent UK Government announcement regarding foreign travel from 17th May. The new Traffic Light System indicates which countries are in the RED, AMBER and GREEN LIST and arrivals to the UK from countries on these lists must comply with the following requirements: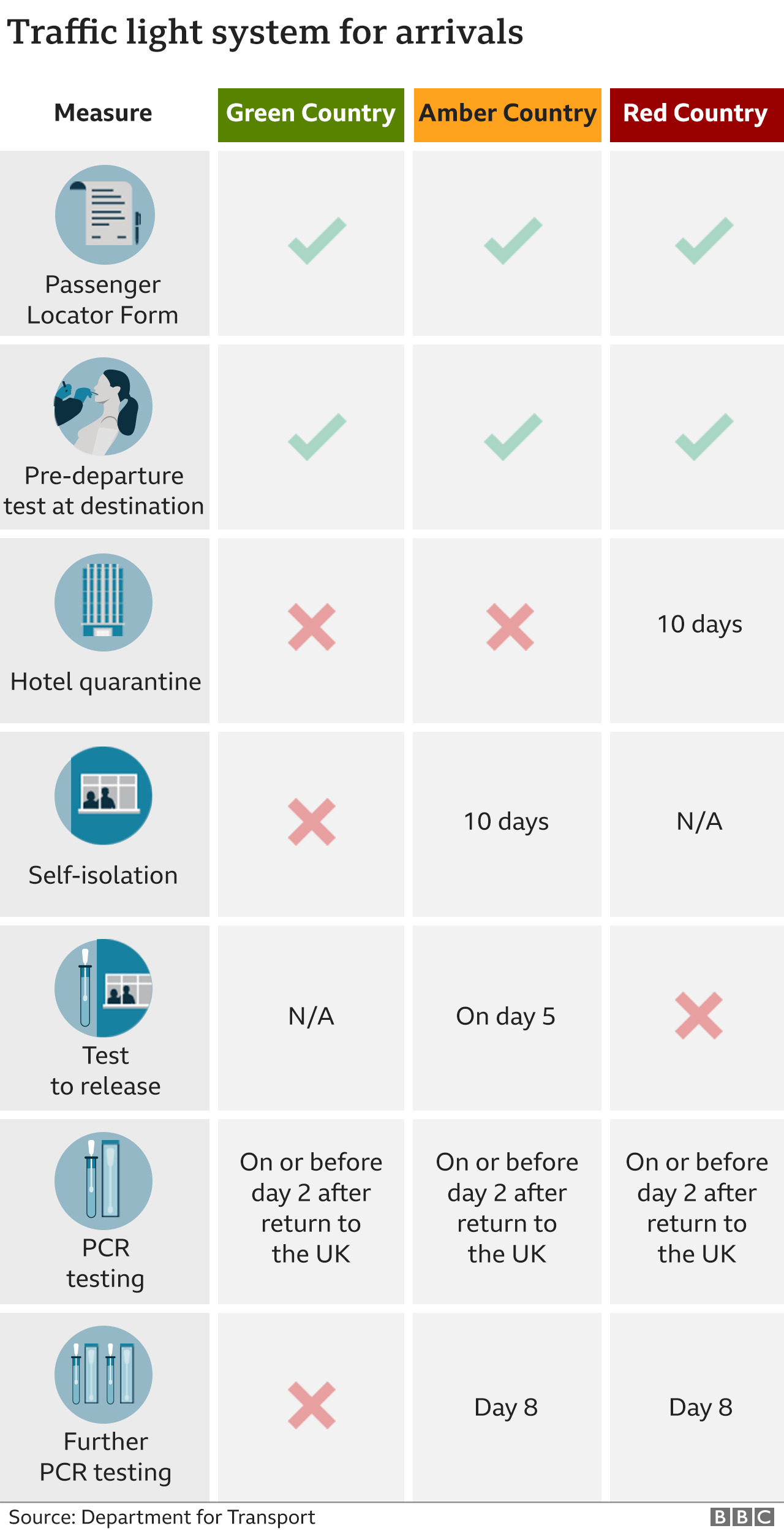 The Traffic Light System will be reviewed and revised at three weekly intervals but it is worth checking on the GOV.UK website before travel.
With effect from Tuesday 8th June, Portugal has been added to the AMBER list of countries so a 10 day quarantine on return to the UK will be required. This can be reduced to 5 days subject to a negative Test to Release Test on Day 5.
Do children require a PCR test prior to travel?
Per GOV.UK, All passengers, excluding children up to the age of 2, travelling to Portugal must show a negative RT-PCR test result for SARS / COVID-19 at the time of boarding (check this post May 17).
All content is valid at date of publication and should only be used as a guide.