Latest Travel to Portugal from Ireland
Latest update: 7th June 2021
The Irish Government has announced that non-essential international travel can resume from 19 July, 2021 as it is implementing the new EU Digital COVID Certificate system from that date.
This means you will be able to travel, to see loved ones or enjoy a well-deserved holiday, once you follow the Irish Government's official travel advice. Below you will find travel planning advice to help you prepare your trip. See below: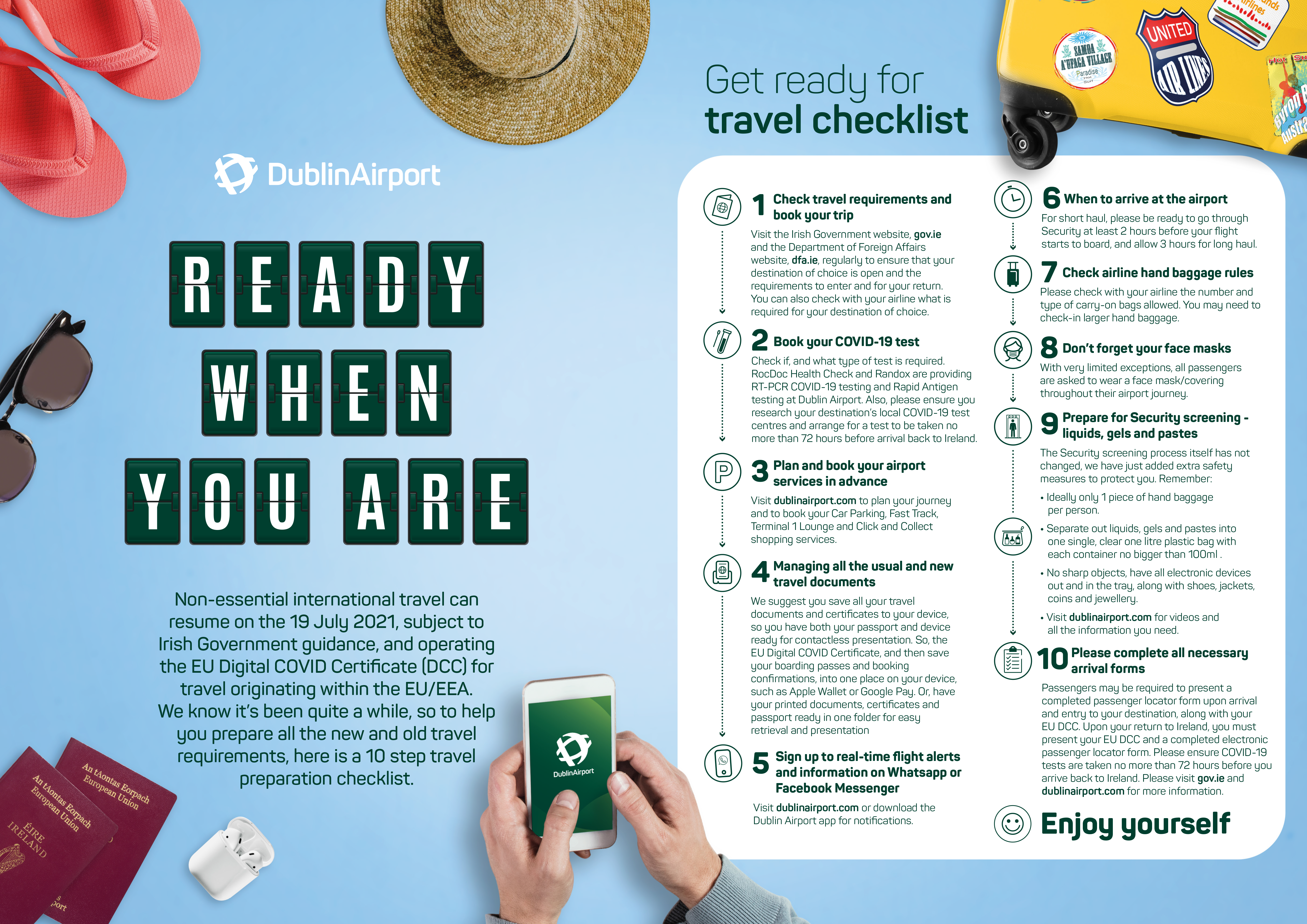 Getting Ready for your Journey
Book Your COVID-19 Test At an On-site Test Centre
There are two private operators, RocDoc and Randox, offering RT-PCR and Rapid Antigen COVID-19 testing at Dublin Airport. Click below to find out more about pricing and locations:
https://www.dublinairport.com/covid-19/pre-departure-covid-19-testing
Book Your Travel Services & Sign-Up For Flight Alerts
Go to dublinairport.com to book your car parking, Fast Track Security or the T1 Lounge and an enhanced travel experience. Sign-up for airport information and real-time flight alerts via WhatsApp, Facebook and Twitter. Click below for more information:
https://www.dublinairport.com/enhance-your-journey
Prepare For Security
Arrive at least 2 hours before a short-haul flight and 3 hours before a long-haul flight.
Click below for reminders of how to prepare your liquids, gets and pastes and view the safety measures put in place to protect you. Click below for more detailed information:
https://www.dublinairport.com/covid-19/check-in-security-safety-measures
Check Travel Advice and Forms
Before you travel, visit the Department of Foreign Affairs website for all travel advice.
Remember to complete the necessary passenger locator forms and COVID-19 tests before travel. Click before for further Travel Updates and Advice:
https://www.dfa.ie/